It's been a challenging summer, to say the least, as we've progressed in to a malaise where the days may or may not be getting hotter, but the nights are almost certainly not getting as cool. The issue of staying hydrated is becoming a full-time concern, and I'm almost to the point where I'm perpetually helping myself to scoops of NBS Nutrition, even while in the studio and office, to stay optimally hydrated.
In order to understand whether your body is properly hydrated or not, I'm a liberal user of, and proponent for, Pee Strips. Yup - strips that you pee on to determine your hydration status, among other things. Cycling Center Dallas and Online Bike Coach spend hours looking at extrinsic information, like Watts and KiloJoules, but too often, the intrinsic information is ignored. Reagent Pee Strips allow us to determine things, like a body's PH levels, Leukocytes, Protein elements in urine,, and most importantly, Specific Gravity.
Specific Gravity is basically a way to see how much extra 'stuff' is coming out with your watered urine. It's no longer enough to have a look in the bowl and determine whether 'Clear and Copious' or 'Dark and Clouded' is the best determination. Instead, when you pee on the pee strips, the chemicals are reacting to what's in your urine, and the results are pretty revealing. Distilled water has a Specific Gravity of 1.000, and most healthy humans have SG's in the 1.005 - 1.015, but basically, the further out you go from 1.000, the more dehydrated you are.
At the studio and online, we have been emphasizing the need for hydration as a critical element to training performance now for years. If you read back on this blog, you'll remember that I suffered a serious heat stroke in late June of 2010, and later that year, met Dr. Stacy Sims at the Olympic Training Center, and she changed my world. Nowadays, we not only focus on hydration on an individual basis, we use it as part of the training strategy. Right now, at the studio, I have two clients who have incredibly high sweat rates, and they routinely post Specific Gravities that are in the 1.030 range and worse. They're both triathletes, and they're both concerned about the stigma associated with CamelBacks and drinking to a schedule. As a coach, I'm going to go out on a limb and make a bold claim;
If you TRUST YOUR COACH, then understand that you'll be a STRONGER, FASTER, MORE EFFICIENT cyclist by drinking THE RIGHT MIX, ON A SCHEDULE THAT KEEPS YOUR SPECIFIC GRAVITY IN THE 1.005-1.01 RANGE, THAN ANY AERO, WEIGHT, OR SOCIAL PENALTY YOU MAY SUFFER FROM WEARING A CAMELBACK.
There - I said it. Now, I'm going to back it up with an event that happened this weekend, just to drive the point home.
My wife's travels over the summer left me working the studio, and I was unable to ride as much as I have wanted, so upon her return, I was able to drive down to Fredericksburg, Texas, the second weekend of August, to ride with a friend who lives down there. He knows all the roads, is a past State Champion, and is making the most of small-town life. He's a great guy, and lives humbly, so I thought this would be the best companion for a lot of LSD (Long, Slow, Distance) rides of 2-4 hours, out in the countryside. I got down a day early, and we planned on departing around 7am on Friday Morning, to 'beat the heat'.
Well, we're definitely human. We ended up talking and catching up all night, went to bed late, and slept in. We rolled out around 9:30, and, well, August 12th just happened to be - THE HOTTEST DAY OF THE YEAR IN TEXAS. So at our speeds and with our relative levels of fitness, HYDRATION… WELL-UNDERSTOOD AND COMPREHENSIVELY PREPARED-FOR HYDRATION, was FUNDAMENTAL TO OUR SURVIVAL on that day.
I rolled out with a 70oz Camelback, and two 24oz. Chilled water bottles. My friend rolled out with…. 2 24 oz water bottles with neoprene coozies wrapped around them. We rolled out just as the heat began to hit, and made it to a town called Comfort, after roughly two hours. Now, we did get water at a filling station, but the route back to Fredericksburg left us climbing, with maybe a slight headwind, and we ended up suffering as the heat of the day wore on. This road is also incredibly remote, so we were going through our fluid ounces at a higher rate. Eventually, I inadvertently separated myself from my friend, and climbed up to an overlook where there's a small State Park that protects an abandoned tunnel, which has become a famous bat cave, home to about 19,000 bats.
I found a cool spot, drank up the rest of my Camelback, and downed another bottle, so I was at well over 100 oz. in just about 3 hours, and waited. It took about 10 minutes, and when he showed up, he looked just ragged. Fortunately, there is a Hole-In-The-Wall restaurant about 200 meters up the road from this lookout, and my friend knew the owners. We rolled over there ---- and spent the next two hours in the A/C, drinking lemon water and recovering. Even after that, in the 8 miles home, he STILL didn't feel or ride well, and cramped on all but the slightest of efforts. We spent that afternoon and evening keeping him in a cool shower, and drinking to recover. A quick step on the scale showed that he'd lost about 6 lbs, which, for a skinny guy, is REALLY dangerous.
Me? I drank the other bottle, and then made a poor-man's carb drink by mixing a flat Dr. Pepper with water, which I also drank on the 40 minute ride home. I then immediately drank a recovery drink, and took out a pee strip. The result? Well, it was a life-or-death issue. Here - take a look.
And here it is compared to the baselines you get on a reagent strip container.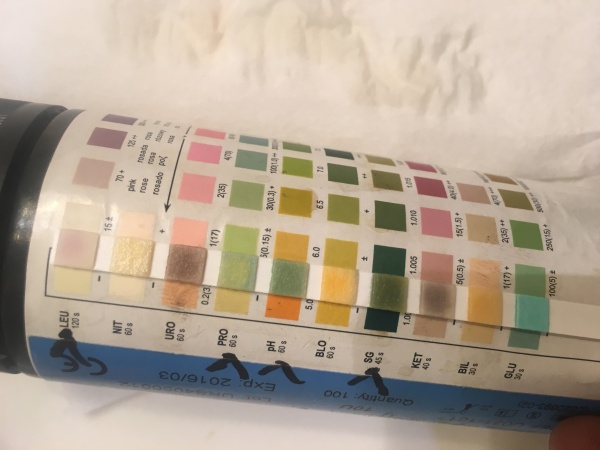 So - after FIVE HOURS in the sun, in which temps hit a peak of 111 DEGREES… I was STILL HYDRATED at a SPECIFIC GRAVITY of 1.01. How much did I drink? 70+24+24+24 = 142oz, of which all but 24 of those ounces was NBS Hydration (remember the Dr. Pepper trick). Also - Look at the Leukocytes. I actually WAS burning fat, which was the mission for the weekend. Furthermore, look at the PH levels. That's purely from the NBS. If I had decided to attempt some hard intervals, I would have been prepared for them internally, since intensity leads to lactic acid and increased Co2 output. Being slightly alkaline can help offset some of the challenges those efforts bring.
Here it is - Sunday morning, and my friend still hasn't really recovered from the heat stress. It reminds me of that life-altering day in late June, 2010, when I drank the wrong drink, didn't drink enough of it, and suffered a life-altering heatstroke that left me with impaired vision in one eye and a higher likelihood of migraines overall. I just hope this message gets across to others; you CAN exercise in the heat - you just have to be EXTREMELY prepared for it, and honestly, DRINK your way out of it.
PS - I honestly feel sorry for the Dallas Cowboys… They're getting umpteen million dollars for a Gatorade Sports Science Institute in their new facilities in Frisco, and I can't believe they'd be using almost 50-year old information and higher concentrations of sports drink, to their detriment. One can only hope that every sports franchise, in a warming world, will see just how powerful these new, scientifically based sports drinks, can change your cycling for the better.