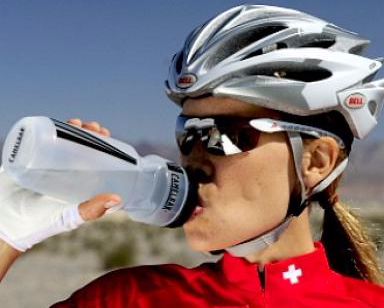 As the Tour de France makes its' way south towards the Pyrenees, and then the Alps, the riders are going to be doing everything they can to stay on top of their hydration. But it's more than just water. They need fluids, electrolytes (salts), and carboHYDRATES, to get it down to the cellular level. As it gets hotter, take a look at this chart, and follow it on a per-hour basis.
Take your body weight on the left, and depending on how hard your workouts are, use the column in the middle as the minimum # of ounces per hour, and the column on the right as the # of ounces I PREFER when it's hot outside. For reference, a short-necked bottle is 20oz and a long-necked water bottle is 24oz.
But don't stop there: modern hydration products employ the best science to help you handle the heat and humidity, and I prefer OSMO and then Skratch. We have it at the studio, and it's available at bike shops and online. We don't recommend traditional sports drinks, as they're too concentrated, and won't be as effective.
This takes practice, but when you do it right, it almost feels as if you're 'running cool'. You're more fresh, more alert, and definitely ride stronger.
Cycling Center Dallas and Online Bike Coach have several methods to help show you just how important hydration is. Come by the studio or give us a call and we'll be glad to give you a demonstration.