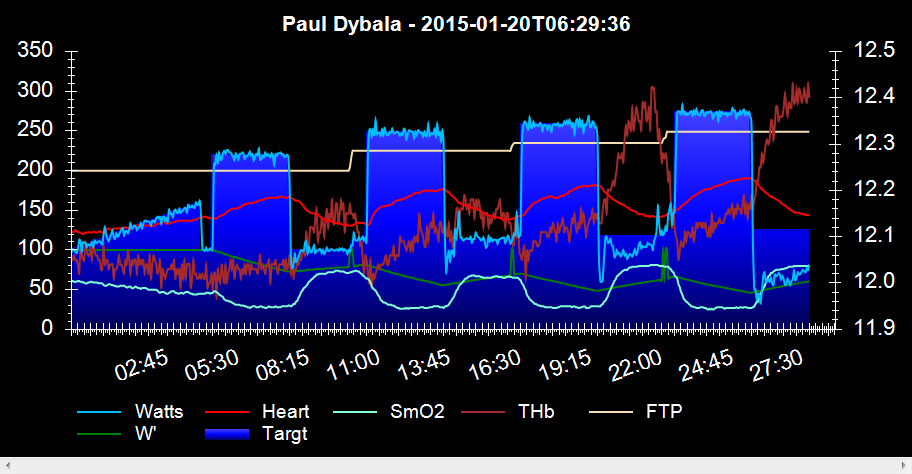 This is a GREAT example of why I'm so excited about the Moxy Monitor, and what it can do to help cyclists at Cycling Center Dallas get MORE out of every training session.
Take a look at the image above. The blue area is the load, and in this case, these are 3-minute intervals at 110% of Critical Power. The white line is Critical Power itself, and if you own PerfPro, you know that you can raise or lower the intensity of a workout just by increasing or decreasing that value with the "+" and "-" keys on the handlebar controller. The smoother red line is Paul's Heart Rate, while the squiggly red line is Total Hemoglobin, or "THB". The Green line is W', or a rider's Anaerobic Work Capacity, and the light blue line is the rider's Saturated Muscle Oxygen, or SMo2.

If you recall from my previous post, I mentioned that we can use Moxy information to learn a lot about warmup, bonking, fatigue, dehydration, etc. And we're still learning more EVERY SINGLE TIME WE USE IT. This morning's ride is a perfect example.

Paul came in this morning after having done a hard interval workout the night before. He also said he had not had much sleep (he has four kids, and his wife had been out of town). But, Paul is one of those perfect clients that is rare in our world. He's consistent, he loves the workouts, and he's hungry to understand. He wrote us something a while back about how we literally saved his cycling soul, and I felt like getting it framed. But after a quick chat, we both agreed that he should just take today's workout one interval at a time, and see how it went. He lowered his Critical Power by 50 points, continued his warmup, and we installed the Moxy Monitor on his left Lateralis.

If you follow the red squiggly line, this is the fascinating part. Throughout the warmup and first interval, Paul's Total Hemoglobin remained low, and his SmO2 was at or near his 'Active Resting SmO2' level. But, predictably, after the first interval was over, both ThB and SmO2 both rose, indicating that the muscles were relaxing and opening up for wider flow of oxygen and nutrients, and purging of waste materials.

We raised CP about 10 points and did the next interval....

SmO2 dropped, down to a level normally associated with his Vo2 or Maximal Aerobic Power plateau, and ThB, which had dropped immediately during the beginning of the interval, began to RISE over the course of the three minutes, while SmO2, again, plateau'd. Watts were perfect, and the rise in HR, which is certainly predictable, was not as high as possible, nor was his 'range' of HR. Immediately after the interval, however, ThB and Smo2 both rose, but NOT to the levels that I was expecting. I racked this up to his fatigue from the night before, and we discussed leaving the CP intensity at that level, and just turning the workout in to a less intense, more aerobic ride. But Paul, himself a PhD and a scientist, wanted to study more.

We raised CP another 10 points, and did the NEXT interval!....

SmO2 dropped to about 30-35% of saturation, in line with the previous intervals, and ThB again plopped, then rose steadily, just like HR. Watts were perfect. He felt better throughout the interval. His head was in it, he knew his numbers, he was watching and listening, as was I, and he nailed his third interval at this 'new' level of intensity.

But it was what happened after that really wowed us.

Look at the ThB and SmO2 levels after interval #3. Paul's now 20 minutes in to the workout, plus the extra 15 he did at low intensity, and NOW, his ThB and SmO2 levels spike to NEW HIGH'S! MORE Oxygen and MORE nutrients, and a BEAUTIFUL little Skateboard-ramp of an HR plot after the interval to show that NOW the Heart is Ready, NOW the legs are ready, and NOW the VASCULAR system is adequately dilated and prepared for the challenges to come.

WE RAISED CP ANOTHER 10 POINTS, to near his original Critical Power, and did the FOURTH Interval....

BOOM! GREAT WATTAGE PROFILE! GREAT HR PROFILE! GREAT SmO2 Profile revealing a floor at an appropriate level of intensity, and BOOM! A great ThB profile that mimics the previous two intervals, showing a rise in ThB throughout the three minutes, as if the blood was pushing GOOD STUFF in, and BAD STUFF OUT. And just after the interval ends? Check out the new high's on that ThB!!

What does it all mean? Well, I can't emphasize it enough, but I REALLY believe that this is telling us good information about proper warmup, proper interval dosing, and psychosomatically, proper ways to get the most out of every workout, and interval. I LOVE wattage and power meters, but the power meter is the LAST BIT of information you're going to get, because it's OUTSIDE the body. It's the RESULT of the brain telling the muscles to GO, and the heart responding after a period of time. IF we had just relied on HR, well, we'd be missing a bit of the picture. IF we just used watts, or cadence, or energy expenditure, it's all just slices of a pie. But NOW, we've got ANOTHER PIECE OF INFORMATION! TWO, REALLY! And we just used that information to help a fatigued cyclist properly warm up, properly dose his intervals, and properly approach those intervals once he had the confidence of knowing that he was READY.

Don't leave anything to chance. Your time, your life, your passion, is SO PRECIOUS. Micah McKee, my first ever cycling coach, gave me a quote that I'll never forget....

"Enthusiasm Without Knowledge Is Like Running In the Dark!"

ENJOY your CYCLING, but ENJOY IT MORE when you train with us. KNOW YOUR NUMBERS - THEY DON'T LIE. Let US do the Analysis, you just perceive and focus, based on what we reveal and learn together. I'm convinced that this will be the next paradigm shift in cycling and coaching. I can't WAIT to learn more.

If you'd like to try out any of our services, please feel free to register for a class at either of our locations. We have Moxy's at each studio, and they are for sale for $1000, or roughly 2/3 to 1/2 the price of a power meter. Integration and Awareness will help us, help you, enjoy your body and bike to a higher degree. That's a promise.